Every project is unique.
We work cross-industy according the individual needs of our clients. Our custom-made services include:
Materials- & Technology Research

Our clients' technical, economic, ecological, and design requirements build the foundation of our work. We research, develop, and help to implement innovative materials solutions that fit these individual needs. This includes 360 degree and focus research for both national and international suppliers and development partners, all screened for innovative materials and process know-how. We accelerate innovation processes through anonymous project briefings that generate first-stage expert feedbacks tailored specifically to our clients' enterprises.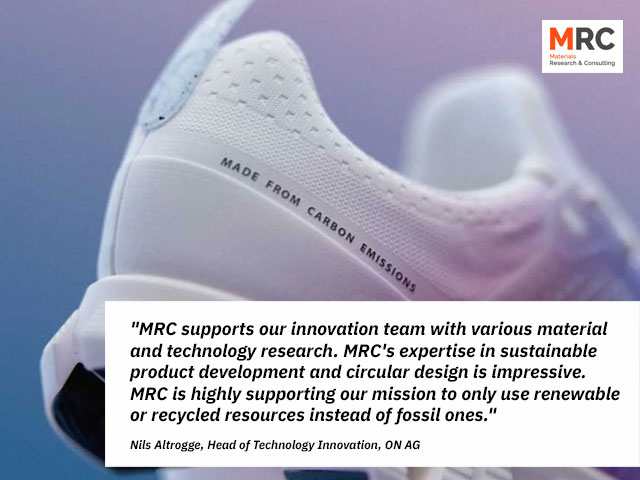 material scouting, new materials, smart materials, material substitution, manufacturing technology, functional raw materials, sourcing, procurement, material design, product design, 360 degree research, focus research, material scout, material agency

Project Management for Product Development

Once the best partners for the development are identified, we begin with the implementation of new material concepts in prototype, pilot, or production scale. We accompany our clients with agile project management and help see the iterative product development all the way through. Our support also includes the sourcing of samples, supervision of processing tests, and coordinating the effective cooperation of all project partners. Always with one goal in mind: start of production.
The collaboration with MRC was outstanding and sped up our development cycle tremendously. From conception until implementation Mr. Bleymehl was a truly valuable asset for our team. Utterly recommendable!
project lead, material development, implementation, prototyping, mock-ups, supply chain management, research and development, r&d, materials analysis, certification, samling, pilot series, zero series
Sustainable Product Design

On top of materials and process know-how we offer our expertise in the development of sustainability strategies. Circular Economy, Cradel2Cradle, or Zero Waste approaches all require meticulously tuned material and end-of-life scenarios. Without holistic considerations of life cycles many "sustainable" products and packagings turn out to be detrimental. We conceive, devise, supervise, and support the implementation of sustainable products including Life Cycle Assessments (LCA), Environmental Product Declaration (EPD), and Cradle2Cradle (C2C) assessments.
The profound know-how regarding polymers, their processing, and environmental impact convinced us. Recommendations of the materials research were confirmed through life cycle assessments. They provided an important basis for decision-making regarding the development of our sustainable materials strategy
design strategy, portfolio design, brand strategy, resource management, supply chain management, corporate social resposibility, recyclability, design for recycling, cradele to cradle design, DGNB, LEED, BREEAM
Materials Trend Reports & Workshops
To inspire your development and design teams we offer client-specific materials trend reports and workshops. Sustainability, functional packaging, biopolymers, lightweight construction, or smart materials are some of our main topics. Background information on materials and manufacturing technology of cross-sector best practices will stimulate your team to find new solutions. Plan your next innovation workshop with us – we provide valuable industry insights into your focus area.
material innovation, industry insights, material know-how, best-practice, material transfer, technologie transfer, ideation, inspiration & information, hands-on experience, out-of the box, moderation, key note
Circular Economy Materials Design
We map out tailormade raw materials for the Circular Economy. Starting point are secondary resources from industrial (post-industrial) and communal (post-consumer) collections which were separated and processed homogenously. The resulting raw materials offer savings of up to 100% of resources, 80% of energy, and 60% of CO2 emissions in comparison with new goods. Depending on the material cycle strategy (biological or technical cycles) we will also emphasize utilization of bio-based and/or biodegradable raw materials.
Since 2019 our sister company, The Circular Materials GmbH is developing and producing customized materials from recycled and renewable resources for world leading brands.
recycling economy, design for recyclability, carbon footprint, reprocessing, recompound, upcycling, compostable, ocean plastic, cradle2cradle, C2C
Materials Showcases & Events
We conceptualize and execute exhibits and events on innovative materials. At trade fairs, governmental institutions or our client´s innovation centers – we create and curate poignant showcases on materials & innovation.
material exhibition, special exhibition, material samples, materials display, material wall, lecturing, curator
Cross-sector material- & technology transfer
The transfer of sector specific material and technology know-how into new applications is driving innovation on a daily basis.
Google uses miniaturized radar technology replacing touchscreens, switches and buttons on mobile devices.
Nike uses 3D-knitting to produce it´s "fly knit" uppers in a single piece instead of traditionally gluing/sewing individual pieces together. Due to the implementation of this forty year "old" technology Nike ensures a new sport shoe design as well as savings in production waste (up to 80%) and weight (up to 18%) of the final product.
Modern and innovative materials have a fundamental importance for product development. Many product innovations can be traced back to new materials. We will help you to find the right materials for your needs and differentiate your products!